Karim Benzema and Luka Modric will return to the Real Madrid starting lineup against Manchester City at Etihad on Wednesday.
Real Madrid will look to reach the UEFA Champions League final when they lock horns with Manchester City at the Etihad Stadium on Wednesday night. And Carlo Ancelotti has a full-strength squad at his disposal ahead of his side's latest fixture.
Ancelotti rested several regulars this past weekend against Getafe, keeping one eye on the game versus Manchester City. And all those players have returned to the travelling squad for Wednesday's fixture.
During his pre-match press conference, Ancelotti discussed the availability of a few players. And he also spoke about the possibility of changing the formation by utilising four midfielders on Wednesday.
Ancelotti said, "Rüdiger can play, as can Camavinga, Militão or Alaba. I'd like to apologise for what I said in the Getafe press conference because it was a misunderstanding, as I thought they were talking about Rodrygo."
Manchester City vs Real Madrid Preview: Probable Lineups, Prediction, Tactics, Team News & Key Stats
"I'm lucky enough to have all my players available and this makes it more difficult to choose the lineup, but it also makes me sure that if we win, I'll be right in my lineup and if we don't win, I'll be wrong. That's the only thing I am sure about. I have the lineup in my head."
"The idea of Valverde out wide allowed us to win the Champions League last year and the three forwards up top allowed us to get to the semi-final by winning a lot of games. The decision isn't easy, but it's already been made."
As Ancelotti discussed in his press conference about the possibility of changing the formation, he will line Real Madrid up in a 4-4-2 formation. And the midfield unit will consist of Luka Modric, Toni Kroos, Federico Valverde, and Eduardo Camavinga.
Valverde and Camavinga will reprise the modified versions of the roles they have essayed this season. While Valverde has often started as a right-winger, Camavinga has excelled as a left-back. And the duo will be the two wide midfielders on Wednesday. Meanwhile, Vinicius Junior and Karim Benzema should be the two strikers. So Rodrygo Goes will be an option on the bench.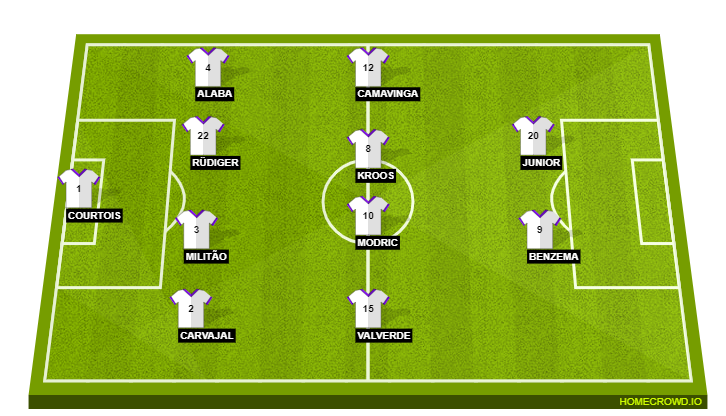 As for the defensive unit, Eder Militao and Antonio Rudiger will form the central defensive pairing. David Alaba should be the left-back, with Dani Carvajal returning on the right flank. Finally, Thibaut Courtois will take his spot between the sticks.
Predicted Real Madrid XI: Courtois; Carvajal, Militao, Rudiger, Alaba; Valverde, Modric, Kroos, Camavinga; Benzema, Vinicius Jr.