Real Madrid manager Zinedine Zidane was recently asked to pick his greatest Premier league XI and it features legends from Chelsea, Liverpool, Manchester United and Arsenal.
Manchester United dominate Zizou's Premier League XI, with 6 players from various legendary Sir Alex Ferguson teams finding places in his dream team. The three other clubs represented in the side are Chelsea, Arsenal and Liverpool.
The Reds legend Steven Gerrard is their only former player who makes the cut. Chelsea's former English left-back Ashley Cole and French defensive midfielder Claude Makelele, who were instrumental in their side's title triumphs in 2004-05 and 2005-06, are the two Blues players in the team.
The Gunners' representatives are two of the pivotal members of their 2001-02 'Invincibles' team — the French duo of Thierry Henry and Patrick Viera.
However the list is dominated by Manchester United players, which could lead one to believe that Zidane is a closet Red Devils' fan. Goalkeeper Peter Schmeichel, defenders Gary Neville, Jaap Stam and Rio Ferdinand, midfielder Paul Scholes and Cristiano Ronaldo, a key member of his present team at Real Madrid, form the core of this dream team.
Ronaldo is the only player from the chosen eleven who is currently active in Europe.
Zidane's Premier League XI:
Schmeichel, Cole, Stam, Ferdinand, Neville, Makelele, Viera, Gerrard, Scholes, Henry, Ronaldo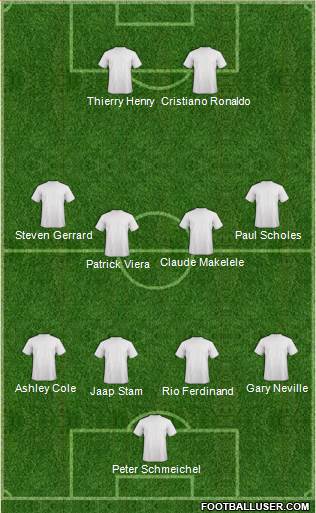 One of the best to never play in the Premier League
Zinedine Zidane had a storied career in some of the top clubs in the best leagues across Europe. He was named the best player in Ligue One when he played for Bordeaux, the best player in Serie A when he played for Juventus, and the best foreign player in La Liga when he played for Real Madrid.
Zidane's skill on the ball, magical first touch and awareness on the pitch were exceptional, and the attacking midfielder was often regarded as the best player in the world during his playing days. Unfortunately though, fans of the Premier League never had the chance to witness him work his magic for one of their favourite clubs. Otherwise, Zizou would definitely have been one of the first names in any list of great PL players.