After a bright start, Manchester United's season seems to have fizzled out. The old way isn't working and manager Jose Mourinho needs to tweak his tactical approach if he wants to stop this rut
The Portuguese manager was hailed as a tactically astute manager during his first reign at Chelsea. He utilized the 4-2-3-1 formation to perfection, before it became the most commonly used formation in football.
At this moment in time, Mourinho seems like he can't come up with something new in the face of a changing tactical approach to the game and needs to change things up at Old Trafford. The 'special one' has nothing to lose, as it can't get much worse than his current record of one win from seven games.
Here are three alternate formations that the Portuguese manager could try at Man United.
1. The three-man defence (3-4-3)
The three man defence has proven to be an effective set-up these days. Wales employed it to much success in the European Championship, while off late West Ham United have managed to stop their freefall in the Premier League by adopting this approach.
Man United themselves were on the receiving end of a thrashing by Chelsea last week, with the Blues lining up in a 3-4-3 formation. They ran out 4-0 winners and Mourinho suffered a traumatizing return to Stamford Bridge.
In a fully fit squad, Mourinho has the perfect three defenders in Daley Blind, Chris Smalling and Eric Bailly to form the core of the defence. Luke Shaw and Antonio Valencia shouldn't have too many problems playing as wing-backs as they are both very attack minded players.
This would eliminate the number 10 role though. This could be problematic for Juan Mata, who has excelled in that position this season. However, wingers like Anthony Martial and Jesse Lingard would have more space to cut back into the middle, and could thrive in this set-up.
2. Two strikers on top of the pyramid (5-3-2)
The misfiring Zlatan Ibrahimovic was one of the big worries for Man United after their goalless draw against Burnley. It's difficult to drop the Swede striker, but his horrendous missed chances during the game could sway even his staunchest supporters.
One possible remedy to keep everyone happy would be to play Zlatan alongside another striker in a 5-3-2 formation, instead of playing him as the lone target man. In this regard, teenage prodigy Marcus Rashford would be the perfect foil for Ibra.
The pacy youngster offers a different kind of attacking threat. If Rashford gets among the goals regularly like he's expected to, then it alleviates the pressure on Ibra and gives him the chance to attempt the spectacular.
This formation could also bring out the best in Paul Pogba, who has previously thrived as part of a three man midfield at Juventus.
It would help Mourinho make the most of the midfield riches at his disposal as the likes of Juan Mata, Ander Herrera,  Henrikh Mkhitaryan, Michael Carrick and Morgan Schneiderlin would all have a good chance of starting more games with the extra position available in midfield.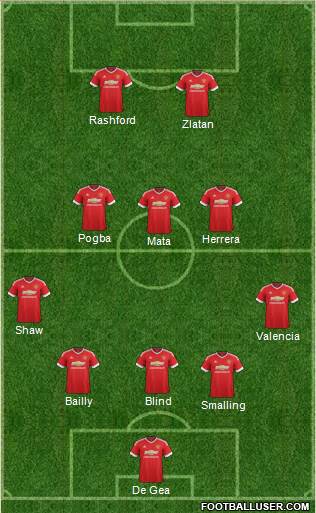 3. Old School (4-4-2)
Although the 4-4-2 has been replaced by the 4-2-3-1 as the formation of choice in the Premier League, it made an unheralded return last season. Leicester City won the title using this classic formation, and it could prove to be useful for Jose Mourinho and Manchester United.
This formation also relieves some of the burden on Zlatan Ibrahimovic. However, it importantly keeps more bodies in defence in a back four, a setup that Mourinho is much more familiar with and has been employing for years.
The 4-4-2 would once again remove the need for a trequartista, and the likes of Juan Mata and Henrikh Mkhitaryan may be forced to play in unnatural positions in this set-up.
However, there would be four midfielders looking to dominate the proceedings from the middle of the field. And this could reap results for the Red Devils.