Another international tournament, another roster of underwhelming performers, another string of unusual yet headstrong selections, another succession of poor results in pre-tournament fixtures and another Italian team which will inevitably be written of before the tournament starts – this has been the ironic foreshadowing of Italy's success in the past.
Such as it is, a heavily depleted Italy side shorn of playmaker and talisman Marco Verratti and Claudio Marchisio, arguably two of their best (and their only world class) midfielders, will have to make best of every second in the group of death with teams like Belgium, Sweden and Republic of Ireland.
Selection Woes
A vast section of the fans already feel betrayed with Antonio Conte's policy of team selection as there were a number surprise exclusions and a number of rather bizzare inclusions. Conte's detractors, already incensed by his premature announcement of leaving the job to join Chelsea after the tournament, were further angered with the exclusion of a number of players mostly playing for AC Milan.
While the spectacularly outlandish exclusions of Jorginho, Bonaventura, Romagnoli and fullback Luca Antonelli were met with shock and dismay, the exclusions of Sampdoria's Roberto Soriano, Empoli's Riccardo Saponara, Sassuolo's Domenico Berardi and Genoa's Leonardo Pavoletti also raised quite a few eyebrows.
Conte enthusiasts would defend the exclusions on the grounds of pure managerial prerogative however, and on one occasion Conte has admitted that there are bound to be key exclusions but has assured fans that he has monitored and evaluated all the aspirants carefully and has only chosen the players with "the most guarantees". Managerial prerogative, even to this degree, is not unprecedented. In fact Milan fans would conveniently like to forget how Arrigo Sacchi, one of the most successful Milan coaches, showed a selection bias for certain apparently less deserving Milan players and players he has previously worked with ahead of others.
The Weakness
The forward line is undeniably Italy's Achilles Heel this year in the Euros. In fact, Italy's attack was never as weak as it is now, in recent history. The only dependable striker that Conte could recruit plays his football in England at Southampton. Furthermore, Pelle's club is set to deny him an extension and are looking to sell him off to suitors in Italy. However, Pelle remains a decent option for the Azzuri side, having netted 5 times since 2014.
The segunda punta or the second striker who will play off Pelle has a key role in Conte's system. In the past Conte has shown faith in Eder and perhaps will continue to do so. Insigne is perhaps an option to consider in this department since the diminutive winger from Naples has had a very good season by Higuain's side.
The Strength and Key Men
Like all great Italian sides, Conte is heavily dependant on his defense. Barzagli, Bonucci and Chiellini, affectionately hailed as the BBC, form a three man defence ahead of the omnipresent custodian Gianluigi Buffon in goal, as they have done for so many years in Juventus before, under and after Conte. In what will be his last Euro, perhaps his last big tournament in Azzuri colours, his swan song, Buffon will look to lead the national team to a respectable finish, having won the 2006 World Cup with the team.
The key strength that Conte banks on is not just the physical presence and individual acumen of these 4 stalwarts of the modern Italian game but also the collective mental strength, motivation and the competitive attitude they can inculcate in the dressing room. After all, great Italian victories have been chalked out in dressing rooms, not football fields.
Spoilt for Choice on the Wings
Conte's system being heavily dependant on the exhaustive and varied use of his wingers, he is likely to pair one defensive minded wing back with an attack minded wing back. Manchester United's Matteo Darmian, whom Juventus had tried to buy from rivals Torino many times before the team from England eventually bought him, and former Bianconeri winger Giaccherini are likely to occupy the wing back slots.
What is remarkable, and without a precedent in the Italian national team, is the fact that Conte has brought 8 wingers/wing backs with him to France for 2 apparent slots. However, a closer look at the tactical flexibility of the side will reveal that Conte plans on using upto four wingers occupying various positions on the squad when necessary. Fiorentina's Bernardeschi and Roma's El Sharaawy might come on to replace either of the wingers at a certain point in the game depending upon circumstances. Both have had good seasons with their respective clubs.
The Probable Starting Lineups and Substitutes
Probable Lineup – (3-5-2) – Buffon; Chiellini, Barzagli, Bonucci; Darmian, Candreva, Motta, De Rossi, Giaccherini; Pelle, Eder.
This is a tentative lineup as Conte might prefer to start one of his advanced wingers in place of Eder, who hasn't been as impressive since the turn of the year as he was last year in a Sampdoria shirt. Moreover, this basic 3-5-2 system  can be flexible enough to become a 4-2-4 with Darmian pushed down and Candreva pushed up, and the team held by the double pivot of Motta and De Rossi.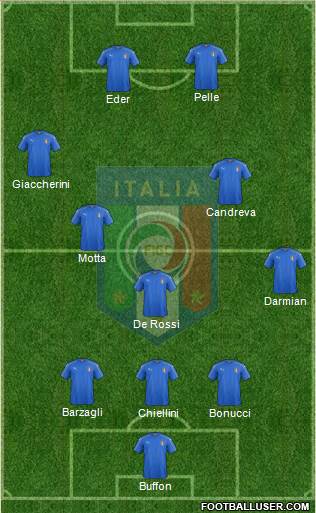 The flexibility would mean Candreva and Giacherini placed as advanced wingers high up the pitch, who track back and chase balls nonetheless with Darmian dropping back to an orthodox back four and Chielini occupying the left back slot.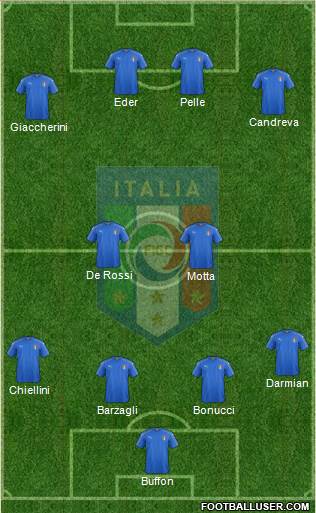 Conte however is unlikely to stick to one system of playing and will look to make full use of the squad he has at his disposal. Insigne could provide an alternate option in attack ahead of Eder as he is more mobile and provides better attacking depth compared to Eder.
There is a strong possibility of Roma's Florenzi starting ahead of Giaccherini after the Bologna man's recent form for Italy. Florenzi is young, agile, full of energy and is probably the paciest player in the Azzuri squad having scored some eye pleasing goals for Roma, especially the one against Barcelona in this year's Champions League group stage.
There is a less viable alternative to Giaccherini in midfield, by playing Lazio's Marco Parolo who is a more orthodox box to box midfielder ahead of a winger. Candreva would then come to occupy Giaccherini's position with Parolo making a more stable three-man midfield with Motta and De Rossi.
Like the great Italian teams of the past, Conte's team relies on discipline, hard work and team game which has a pragmatic outlook. Deprived of the two players who could have played the all important role of the regista (the deep lying playmaker) for Conte, he will rely heavily on his wingers for creativity in the final third. Anything beyond the first knockout stage should be deemed as an extraordinary result for the Azzuri despite having been the finalists in the last instalment of this tournament.