.
The last time both Barcelona and Real Madrid lost a league game was way back in 2008. But it happened again this week with Real Madrid at home to Zaragoza and Barcelona losing to Sociedad away from home. Fortunately for Barca, the results didn't affect their title chances much. With only 4 more games to go, the league title may well have cemented its position in the Camp Nou trophy cabinet. Barcelona needs only a measly 4 more points from 4 games to win the title.
This was a massive week for the bottom of the table teams with significant movements up and down the table. After impressive wins, Zaragoza has taken an important step towards safety. Real Sociedad have reached the magic figure of 41 points that could guarantee safety. Villarreal had an impressive performance against Getafe to almost seal the fourth spot. Meahwhile, Getafe find themselves in the relegation spot. With just 6 points to play with, the 10 teams at the wrong end of the table have a tough fight in the coming weeks.
Weekend Results:
Real Madrid 2 – 3 Zaragoza
Real Sociedad 2 – 1 Barcelona
Deportivo La Coruna 0 – 1 Atletico Madrid
Almeria 0 – 1 Sevilla
Levante 0 – 0 Sporting Gijon
Malaga 3 – 1 Hercules
Racing Santander 2 – 0 Mallorca
Villarreal 2 – 1 Getafe
Osasuna 1 – 0 Valencia
Game of the week:
Villarreal 2 – 1 Getafe
Villarreal are back from Europe after a humiliating 5-1 defeat at the hands of Porto and were looking to cement the European places for next season. Villarreal had won just three of their previous 12 league games and their extensive run in Europe was beginning to take a toll on their squad. With Bilbao breathing down their neck, they needed a win give a breathing space. Getafe were at the El Madrigal and they both produced a scintillating game of football. Open and attacking, both teams went for it and produced a spectacle. Eventually Villarreal came on top with Cani and Rossi giving them all three points.
The game had a high tempo to it from the very start. Pedro Rios produced a stunner at half time to give Getafe the lead. But Villarreal came back strong in the second half with Valero and Cazorla turning Getafe's defense inside out time and time again. Eventually Villarreal equalized through Cani after a cunning quick free kick. Carlos Garrido then went all out attack replacing his defender Kiko with a striker, Marco Ruben. The move paid off as Ruben cut back inside from the left to assist Rossi to snatch the tie. The result saw Villarreal taking a strong step towards Europe next year but Getafe slipping to the relegation zone.
Player of the week:
Julio Baptista (Malaga)
He has now scored 5 times in his last three games after coming back from injury. The Beast has returned and he is looking in ominous form. Malaga, the team that was languishing at the bottom of the table throughout the season has now found light at the end of the tunnel. Baptista first cancelled out Nelson Valdez's strike and then scored the final goal to give all three points for Malaga. With their survival hopes resting on these last few games, the form of Baptista and the team as a whole will give Pellegrini the hope that they can stay up.
Goal of the week:
Pedro Rios (Getafe)
Pedro Rios's strike in the first half was an unstoppable screamer. He unleashed a 25 yard left footed drive that gave no chance for Lopez at Villarreal's goal. Cani's goal was also worth a nomination as it was cunning and a beautiful finish. Villarreal's game against Getafe had everything in it to be able to claim all the elements that make up a preview.

1
Upset of the week:
Real Madrid 2 – 3 Zaragoza
No one expected the relegation strugglers Zaragoza to beat Jose Mourinho's men in their own backyard. Real Madrid did rest a number of players keeping the Champions League Semi's in mind. But a team consisting of Kaka, Higuain, Ozil, Benzema and Di Maria is surely strong enough to beat Zaragoza. But it was not to be as Mourinho's team gave away three goals to everyone's surprise and in that process loosing Carvalho to a red card. Late in the game Mourinho acknowledged that this team was good enough to have beaten Zaragoza and took full responsibility for the defeat.
Barcelona's lose was also unexpected as they failed to take advantage of Real Madrid's slip up. Real Sociedad managed to hold on to their record of longest run without defeat in the history of La Liga. Pep's men were not at their usual intense best. projecting no control in the second half. This shouldn't take anything away from the intensity and desire of Sociedad to go for the win.
Team of the week:
Oscar Ustari, Joan Capdevila, Mikel Gonzalez, Martín Demichelis, Carlos Martinez, Apono, Borja Valero, Cani, Lafita, Xabi Prieto, Baptista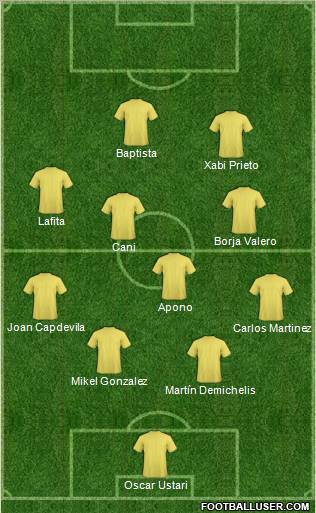 Primera División table
1. Barcelona – 88 points
2. Real Madrid – 80 points
3. Valencia – 63 points
4. Villarreal – 60 points
5. Atlético Madrid – 52 points
Race for the Pichichi
1. Lionel Messi (Barcelona) – 31
2. Cristiano Ronaldo (Real Madrid) – 29
3. David Villa (FC Barcelona) – 18
Giuseppe Rossi (Villarreal) – 18
4. Sergio Agüero (Atlético Madrid) – 17
5. Fernando Llorente (Athletic Club) – 16