.
The fight for top of the division seems to be over. FC Barcelona have a huge 8 point advantage and need a solitary point from the next 3 matches to claim the Spanish league. Pep Guardiola has taken another step towards the trophy and in case he decides to wrap things up next match day, his team would be crowned Spanish champions for the third time in a row, which speaks volumes about the character and quality of the CL finalists. Andres Iniesta and Gerard Pique scored for the home team, ensuring a victory over their Catalan rivals.
On the other hand, Real Madrid seemed to vying for another trophy – The Trofeo Pichichi. Ronaldo scored four goals in a one-sided contest and Los Blancos brushed aside Sevilla at the Sanchez Pizjuán. Mesut Ozil set the ground on fire with his delightful assists and a brilliant long ball to Benzema which lead to Ronaldo's fourth. The German international now has served 8 assists to Ronaldo, the most from one player to another in La Liga this season. The next best – Messi to Villa with 7 assists.
With the league title settled, the relegation battle looks set for a mind-boggling finish. With a loss to Getafe, Almeria are sure to be relegated while only a miracle can save Hercules from slipping to the second division after their loss to Racing Santander. The last of the relegation spot is up for grabs as any of the bottom 12 teams can make way to the second division.
Sporting Gijon and Deportivo played out a draw which serves no great purpose to either of them. Deportivo are languishing in the relegation zone thanks to a non-existent penalty which enraged Miguel-Ángel Lotina to no end. It will be a shame if Deportivo end up in the second division because of this penalty. After defeating Madrid, Zaragoza lost to Osasuna, who leap frogged them out of the relegation zone to the 14th place.
Game of the week
Athletic Bilbao 3 – 2 Levante
Levante's success story has been nothing short of inspirational while Athletic Bilbao were looking to consolidate their place in the Europa League.  These two sides produced a competitive game at La Catedral with the Basque side emerging victorious after goals from Toquero, Lopez and Llorente. But, Levante clawed their way back into the game with goals from Stuani and Nano and looked to defy the odds but could not find another goal. Bilbao jumped to 5th place and look all set to feature in the Europa League next year.
Upset of the week
Atletico Madrid 0 – 3 Malaga
Bilbao had won against Levante, which meant that Atletico had to beat Malaga to stay ahead of the Basque outfit. But, Malaga had other plans. Manuel Pellegrini produced a managerial masterclass, reminiscent of his days at Villarreal, as his side shocked the Vicente Calderón with three goals. Julio Baptista continues his awe inspiring come back with a goal and assist beside his name, adding up to an impressive tally of eight goals in nine games.
Player(s) of the week
Mesut Ozil
If a player scores four goals, he would find his place in the player of the week. But, Ronaldo got two of those goals thanks to the vision of his team mate, Mesut Ozil. He also helped Sergio Ramos and Kaka score and was involved in five out of six goals scored. In short, he completed a hat trick of assists. Despite all the competition around him, the German international has maintained his position in the Real Madrid set up and his signing is already an outstanding bargain for Los Blancos.
Julio Baptista
If Mesut Ozil is a bargain signing then Baptista's signing is nothing short of priceless. The Brazilian beast has been the most vital cog in the Malaga set up since his €2.5m signing from Roma. Sid Lowe has dedicated his weekly column to the beast and has mentioned how his effectiveness and efficiency is responsible for Malaga's turnaround in fortunes. The new owners and Pellegrini will hardly be complaining.
Team of the week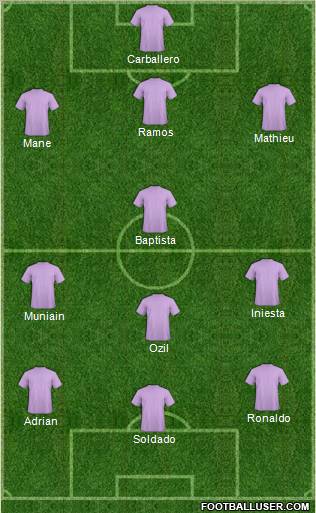 Primera División table
1. Barcelona – 91 points
2. Real Madrid – 83 points
5.Atheltic Bilbao – 54
6. Atlético Madrid – 52 points
17. Zaragoza – 39
18. Deportivo – 39
19. Hercules – 33
20. Almeria – 26
Race for the Pichichi
1. Cristiano Ronaldo (Real Madrid) – 33
2. Lionel Messi (Barcelona) – 31
3. David Villa (FC Barcelona) – 18
Giuseppe Rossi (Villarreal) – 18
4. Sergio Agüero (Atlético Madrid) – 17
Fernando Llorente (Athletic Club) – 17
Matchday results
Getafe 2–0 Almería
Valencia 3–0 Real Sociedad
Athletic 3–2 Levante
Sporting 2–2 Deportivo
Hércules 2–3 Racing
Atlético 0–3 Málaga
Sevilla 2–6 Real Madrid
Mallorca 0–0 Villarreal
Barcelona 2–0 Espanyol
Zaragoza 1–3 Osasuna